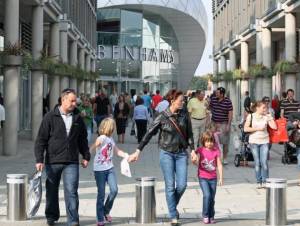 Bury St Edmunds Shopping
A recent national competition has seen Bury St Edmunds voted top five for its high street. Thousands of people visit Bury St Edmunds every month for its shopping, restaurants and pubs.
Visiting Bury St Edmunds is a picturesque, thriving market town, which brings together the old and the new and this is one good reason why you should visit Bury St Edmunds. Why not visit the ruins of the medieval abbey which is just a short walk from the expanding arc shopping centre, the popular Cornhill Walk or the side streets in the Medieval Grid with an overall offering of a mix of national brands and a range of independent boutiques, salons and spas.
The market town of Bury St Edmunds, with its impressive produce market every Wednesday and Saturday, is nestled in the heart of Suffolk. It is known for the Abbey Gardens, which is a ruined abbey right in the town centre. Bury is a very popular destination for tourists and locals to the surrounding area, the main reason for that is its array of shops, eateries and tourist attractions. Visit the old side of the town and see the Cathedral in all its glory, the medieval quarter of the town and the Abbey Gardens itself. While in the newer side of the town you can browse the large assortment of shops, restaurants and entertainment centres.
Study English in Bury St Edmunds at BLS English http://www.burylanguageschool.co.uk
See video of Bury St Edmunds http://www.ourburystedmunds.co.uk