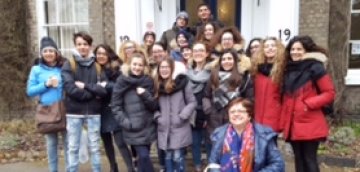 Colchester English Study Centre (CESC) recently hosted a group of 19 Italian High School students for a week in March in collaboration with Colchester Sixth Form College.
The students studied English language at CESC in the mornings using tailored learning materials emphasising intercultural dialogue with our other international students. On three afternoons the students attended Colchester Sixth Form College and engaged in interactive cultural exchange activities with the British students studying Italian and Classical Studies there. One afternoon included a tour of the historic Roman sites in Colchester and on another the Italian students gave presentations to the British students on projects they had prepared about classical civilisation.
The Italian group also made a trip to London to see the sites and to Cambridge. So, a very intensive week and we hope one that really helped to challenge and excite the students both in terms of language learning and developing intercultural understanding.