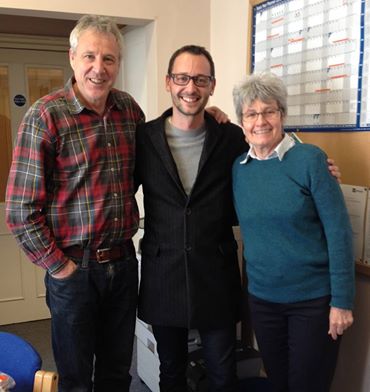 For many of us, school days are one of the happiest of life. This is particularly so if part of our 'schooling' takes place abroad in another country, where friendships and lasting relationships are formed across all age ranges, countries and languages. These days there are lots of tools such as Facebook, Email or Twitter to help us keep in touch – or rekindle old contacts.
For example, Edy Cepi (now Creative Director at UNIL, Geneva, Switzerland), was a student here in 1996. Over the years Edy has kept in touch with various members of staff as well as former class mates.
In March Edy returned to the New School of English to say hello to the staff he remembered from 1996. Edy is pictured between Tim Hedger (Managing Director) and Elizabeth Cane (Principal) who were both teaching at the school when Edy was a student here. Old photos were produced which caused much hilarity (clothes, hair cuts etc!) and anecdotes exchanged.
Edy is just one of a number of students with fond memories of the New School who come back to revisit us.