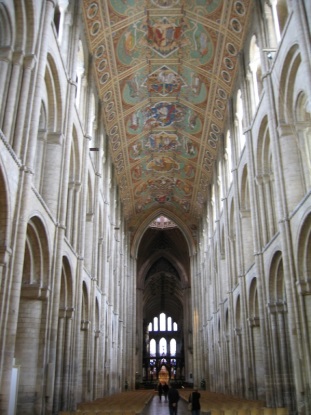 The town of Ely is just 15 minutes by train from Cambridge and is famed throughout the east of England for its incredible Cathedral, known as the ship of the fens due to its imposing presence in the flat landscape that surrounds it.
Recently, students from Bell Cambridge took in the magnificent building with a fascinating guided tour. Our guide Sheila showed us around, explaining the symbolism carved into the ancient stones and also more recent Victorian additions to the church.The Victorians repainted the beautiful panelled ceiling and moved the choir closer to the alter as they reasoned that the space under the vast octagon would be the ideal place to promenade, as people of that era liked to do.
And, with this piece of information fresh in our minds, we headed off to the city centre to do some promenading of our own! Some students headed for the riverside 'Peacocks Tea Rooms', famous in the city for their award-winning afternoon tea; someome explored more of the cathedral; and others simply browsed the great many small independently run shops along Ely's High Street.