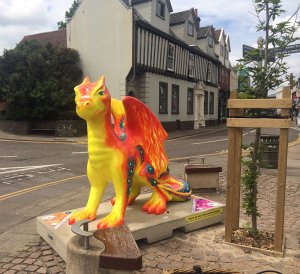 For the third time running, Norwich has been invaded by some rather large animals… 204 of them in fact. But don't worry! The local zoo hasn't relaxed its security standards. Norfolk charity Break is raising money for vulnerable children, young people and families in the East of England. 84 large GoGoDragons! sculptures have been placed around the city as part of an interactive trail, as well as 120 smaller dragons from local schools.
In 2013, Break teamed up with Wild in Art to produce uniquely artist-designed gorilla sculptures. GoGoGorilla! raised more than a quarter of a million pounds. This year we have dragons. Each dragon is sponsored by a local trust, group or business which showcases the diversity and creativity in Norwich and the funds generated for charity will benefit local artists and businesses.
It would be a huge shame to miss out on this opportunity as artists have spent months transforming blank dragon sculptures into beautifully painted masterpieces. Continuing NILE's (Norwich Institute for Language Education) commitment to participation in the local community, we are excited to have our very own junior dragon. We are also actively encouraging our participants to follow the dragon trail to explore this great medieval city, admire the artwork and enjoy this fun educational activity.
The dragons will be displayed until the end of September before the charity auction on the 1st of October. Donations for this brilliant event are encouraged, see Break for details. Thank you, and get hunting!