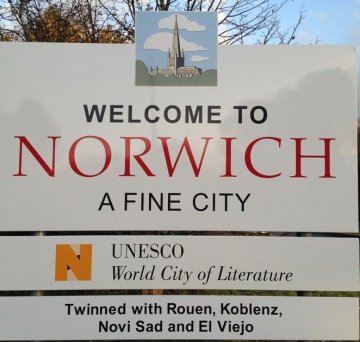 Being only 64 miles from the famous city of Cambridge, Norwich could be forgiven for have a slight inferiority complex. However, having just recently been voted 'the nations happiest employees' (source business psychologists OPP) we happy employees at The English Experience felt it was time 'Narridge' started blowing a louder trumpet.
So here are some little known facts about our beautiful city -
Norwich was voted the first 'UNESCO City of Literature' in 2012. It is in the UK's top 10 for city breaks (source The Telegraph). Is ranked 16th in the nation's university tables and is in the top 10 'safest cities for students'. Has achieved top 10 status for shopping, with the Norwich Lanes winning the 2014 'National High St Award'.
Considering we are a 'bijou' city of 150,000 people, not only does Norwich have two cathedrals, we can also boast two universities. Norwich is home to the prestigious University of East Anglia, as well as the hugely successful 'Norwich University of the Arts' which was started by the Norwich School of Painters in 1845. Finally Norwich City Football Club, part owned by famous cook Delia smith, is now back in the premiership where we hope they will thrive for more than one season. Let's not mention where they are in the league table at the moment…
Hopefully, if we Norfolk 'yokels' keep blowing our own trumpet, being met with blank looks when mentioning Norwich abroad will become a thing of the past. Who knows, maybe in years to come Cambridge will end up being described as 'that city near Norwich', we can only dream.