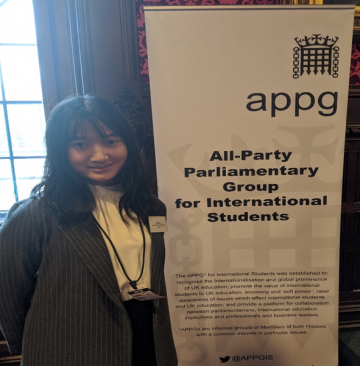 On February 25th Jingting Li who is one of our International Access to HE Business students at CRC attended an event organised by All-Party Parliamentary Group for International Students and sponsored by Kaplan. The event was held at the Houses of Parliament.
Jingting Li who is 17 years old and comes from China travelled with her tutor by train from Cambridge North to London King's Cross and then by underground to Westminster.
On arrival, they had to clear airport-like security, before entering the beautiful building of the Palace of Westminster. The meeting was held in The Strangers dining room. After a registration, they spent time networking and mingling with other students whilst finding time to sample delicious cakes and sandwiches.
The guests included embassies, NGOs, parliamentarians and most importantly International students, undergraduate and postgraduate studying in different parts of the UK on a range of HE programmes. They met students who read law, engineering, business and science who study in Liverpool, Sheffield, Warwick and East London.
This provided an amazing opportunity for Jingting to meet and speak with many international and share their experiences.
This is the first time FE colleges have been invited to this event, we are grateful to the Association of Colleges for forwarding the invitation to us.