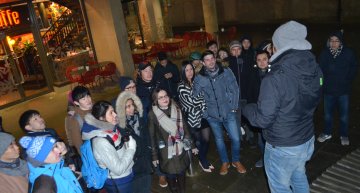 On Thursday 9th February, Kaplan International Cambridge students discovered the spookier side to Cambridge. They were lucky enough to explore the haunted history of Cambridge's past and find out about the kookiness of the city.
The whole experience was brought to life by "The Crane Event", - specialists in booking group tours. Justin our guide took students around the city where they learnt facts such as; who has the head of Oliver Cromwell? Why there was a skeleton in Clare College Library? And how did the seeds of Frankenstein stem from Trinity College?
Students were captivated from the very beginning of the two hour tour, as never did they think that there could be another side to this glorious University City. Students left full of extra knowledge of Cambridge's, spooky yet entertaining past.