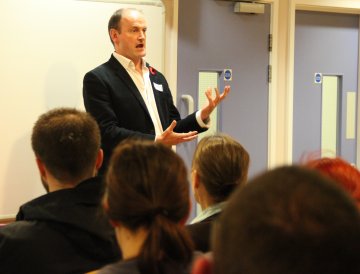 MP for Clacton and member of the UK Independence Party (UKIP) Douglas Carswell recently met with international students at Colchester Institute to discuss their concerns regarding the UK leaving the European Union.
Speaking specifically to students studying English for Speakers of Other Languages (ESOL) and English as a Foreign Language (EFL) the MP welcomed the opportunity to engage with the students and discuss their concerns.
The MP was invited to Colchester Institute by Sally Bates, Head of International Development following the referendum result and subsequent negativity experienced by the students in recent weeks from members of the public.
Sally Bates, Head of International Development at Colchester Institute comments:
"I initially expressed my views to Douglas, after hearing some distressing news of our students and their friends experiencing xenophobic behaviour. Many of our overseas students were very concerned following the result of the referendum in June and the decision to leave the EU. They are uncertain about their position as immigrants in the UK and about what the future holds. We were delighted that Douglas offered to come and reassure them."
Douglas Carswell, MP for Clacton comments:
"My talk with the students emphasised what needs to be done to fix our current economic system. There are big changes afoot, where we are now open to a more liberal, open and sensible change. Even after we've physically left the EU – everyone has the right to be here."
40 students from across the EU attended the talk which took place at the College's Colchester Campus, they were also able to ask the MP questions and share their experiences. Laura Dreghici, ESOL student from Romania, has been living in the UK for two years. She comments:
"I attended the talk because I wanted to listen to what Douglas had to say. I was interested about his opinion towards immigration and what it means for people like me with Brexit. I'm really pleased that my question was chosen to be asked and appreciate the time Douglas spent to speak to us today. "
We have arranged for the MP for Colchester, Will Quince, to visit our students in January and hope that will be an equally positive occasion.