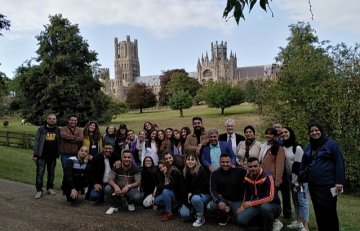 After hurtling through the wide-open Fenland countryside on the train (a mere 12 minute journey from Cambridge), we made it to the second smallest city in England – Ely.
Ely is home to one of the most important cathedrals in England, a magnificent building with its unique Octagon Tower which dominates the landscape for miles around. We were lucky enough to see a couple leaving their wedding after what must have been a spectacular ceremony inside. Some students even climbed to the top of the West Towers, and despite the many steps, felt the view is well worth it! While in the Cathedral we also visited the Stained Glass Museum, the only one of its kind in the country.
But it is not only the Cathedral that makes Ely such a wonderfully interesting city – there is also Oliver Cromwell's house. It's the only remaining residence used by Cromwell with the exception of Hampton Court Palace in London. Cromwell lived with his family in Ely for just over ten years and the house provides an interactive insight into 17th century life. This was particularly handy for our Italian Group who were working on a project based on historical English figures!
After the visits, we followed the lovely Eel Trail. This circular walk took us past the oldest parts of Ely and down to the beautiful riverside area, where we enjoyed a well-earned cream tea at Peacocks Tea Rooms.