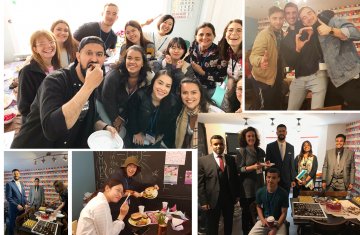 There are so many ways our students get to practise English at St Giles Cambridge. One of the best ones is through food. Who can say no to a festive celebration full of cakes and sweets, a delicious charity event, or a warm meal straight from the grill? Our students certainly couldn't. They said a loud yes!
We basically ate our way through the first week of June. There was a lot of good food, a lot of speaking and a lot of fun. The festivities started on Tuesday when, at break time, our lovely students from Saudi Arabia surprised all their friends with an Eid celebration. There were cakes in the common room for everybody, the biggest box of chocolates you could find and everybody got to eat some cake and learn new things about different cultures and their traditions. Thursday was fast approaching and that meant gathering ingredients: flour, milk, sugar, butter. You guessed it, more cake! We held a bake sale for charity. All our staff and teachers contributed homemade cakes and our Brazilian students even decided to make their traditional brigadeiros, incredibly tasty balls made with condensed milk and chocolate. Everybody was so full and they didn't hesitate to donate money to a good cause. Most important of all, St Giles International trebles the money we've raised.
The cherry on the top was Friday's barbecue. At 2pm, after all classes had finished, a saliva-inducing smell pervaded the school. There were beef burgers on the grill together with the yummiest chicken legs and lots and lots of veggies ready to be devoured by our students. The students enjoyed a filling lunch and talked together while playing some games on our new ps4, creating origami animals out of origami paper and playing ping pong and table football outside in our garden.
It's impossible to be a couch potato in Cambridge – from colleges to visit, fairs to attend, boat races and school events. There are so many things to do. You come here because you know that learning English will help you, but soon you meet a new friend and find you're like two peas in a pod. You don't need to be an egg head to succeed in your learning, in fact, you'll soon find that learning English at St Giles is a piece of cake!
Hope you have a great summer (and that this rain stops)!