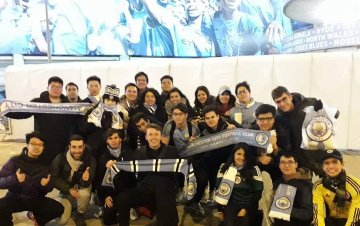 Over the last few months Select English students have been "Stadium Hopping" to try and experience as much Champions League glory and heartbreak as possible and were lucky enough to see some incredible matches.
Here they are visiting the blue side of Manchester to see Manchester City's 7-0 drubbing of FC Schalke 04. It was a game packed with creativity, flair and world-class players, and as you can see, the students supported in style with all their new memorabilia.
Despite not all the students being firm football followers prior to the game, Select English staff were on hand to explain the rules and the terminology so that they could enjoy the unfolding excitement and by the end of the evening all the students had a new found love for the beautiful game.