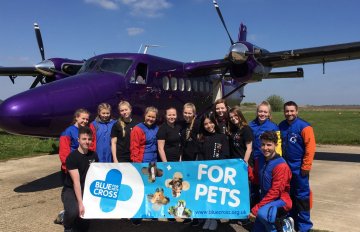 A group of Uniformed Services and international students from Tromsø in Norway took part in a skydive in Cambridgeshire on Wednesday 10 May 2017. This was done as part of the NCS programme (National Citizen Programme) which is offered to 16-18 year old students at Cambridge Regional College. This group wanted to raise awareness of Blue Cross (a charity that looks after abandoned and unwanted pets) and decided to do this through a sponsored skydive.
The students jumped from about 13,000 ft (almost 4,000 metres!!!) – with their instructor: they felt safe and were able to enjoy the experience greatly.
It was all for a good cause, of course, but the students also commented on the self-knowledge and self-confidence they had personally gained from it.
We look forward to our new group of students from Tromsø in September taking part in this citizenship programme next year and by so doing gaining more in-depth understanding of the UK.