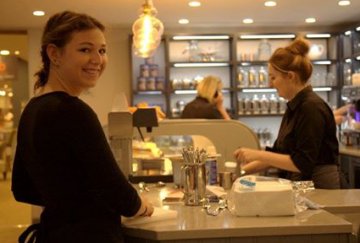 An Italian school group recently visited Bury St Edmunds and studied at BLS English on a Work Experience programme. The 16-18-year-olds studied business skills in the mornings and joined local companies in the afternoons. Here is some feedback from the students themselves...
GUIDO (local cafe)
"The job is very nice and I think that it could be useful for me when I go back to Italy. The main things that I have to do are: clean the tables, serve the food at the people here and I also wash the dishes. I thought that the job was more tiring, but it isn't."
ALLEGRA (local beauty salon)
"On the first day I was really nervous because it is my first work experience, but my boss is really nice and kind with me. She explained our tasks and fortunately we learned quickly."
Our students received certificates on their last day and had a wonderful karaoke evening to celebrate.