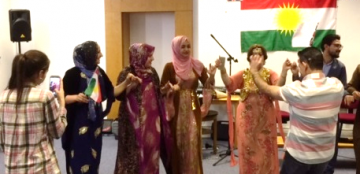 In the ESOL department we currently teach 24 students originally from Syria. Most of these students have come to Colchester as refugees due to the appalling situation in their country. While everyone is aware of Syria's tragic recent history, we also try to celebrate the richness and diversity of Syrian culture.
One way in which this has been successfully done is through the 'Syrian Pop-up Café' that has been hosted by First Site on 5 occasions since November last year. On the first weekend it opened over 2000 customers visited to sample the delicious food on offer, including falafels, kibbeh [balls of bulgur, meat and spices], and baklava [a sweet pastry based dessert]. For the small Syrian community here, it has been wonderful to celebrate and share their national dishes with the people of Colchester.
Recently a group of Syrian Kurds held a party to celebrate their new year ['Nawroz'], which, like many Middle Eastern countries, falls on the spring equinox. Over 100 people from a variety of backgrounds attended the event, which included performances by professional Syrian musicians living in London. We also have a professional musician of our own- a former member of the Syrian Symphony Orchestra studying with us who is now playing with the Colchester Symphony Orchestra.
Our students have made great progress with their English this year and many are working towards taking other courses at the college- for example photography, engineering and obtaining maths and science GCSEs. It can be frustrating for people who had a profession and high level qualifications to have to 'start again' here due to the language barrier they face, but we have some very determined students, who will continue on this journey no matter how long it takes them.
Many of our students have remarked on the welcome and the help they have received since arriving here. They are particularly grateful to 'Fresh Beginnings' [a charity that helps refugees settle in Colchester], the council and our MP Will Quince, who have been keen to take refugee families from countries like Syria and Afghanistan. Colchester has a proud record of welcoming refugees and it is clear that Syrians have much to contribute to our community, and through our work as a college and through the students' resilience and motivation, this will only increase.
Gazette article about the Syrian café: http://www.gazette-news.co.uk/lifestyle/food/14937729.Middle_Eastern_cuisine_set_to_pop_up_at_gallery/
Ipswich Star article featuring Rahaf, one of our students: http://www.ipswichstar.co.uk/news/meet-the-most-inspirational-women-in-east-anglia-1-4921473
Fresh Beginnings: http://www.freshbeginnings.org/
'Refugee Action Colchester' Facebook page: https://www.facebook.com/Refugee-Action-Colchester-134156616932904/?hc_ref=PAGES_TIMELINE